How to Assess your Project's Return On Investment (ROI)?
Relying on our experience and depending on your sector and processes, we have measured a ROI, which includes direct and indirect costs linked to a industrial information system software, as well as possible productivity gains.
Assess your ROI
Upstream of the project, we'll study all its different operational stakes with you. Within your production environment, we'll assess potential gains on direct costs (material, workforce, machinery and energy…) and indirect costs (operational optimization).
Beyond these benefits, one also has to take into account the major benefits related to a project falling within an Industry 4.0 strategy (production customization, new services, connected products…).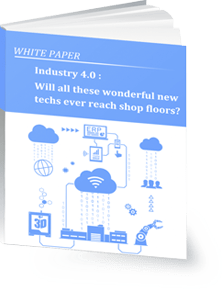 White paper – ROI simulation
Take an extra step when assessing the ROI of a M.E.S project with Club M.E.S' white paper : value-creation linked to a M.E.S project – Weighing up a M.E.S project
This white paper is designed for any industrial player who wishes to invest and improve the performance of his production tools. The document acts as a guide for drafting the project's investment file. It provides a structured listing of all the various elements one has to take into consideration to evaluate the value created by the project's benefits.
Gains on direct costs

Gains on material
Reduction of overconsumption
Reduction of non-compliance and rejects
Optimization of shop floor stock management
Gains on workforce
Improvement of team productivity
Reduction of team cost
Suppression of unproductive time

Gains on machinery
Improvement of team output
Increase of machine capacity

Gains on energy
Reduction of energy consumption
Gains on indirect costs
Improved teamwork
Time saving on reporting, information research and archiving
Quality impacts
Reinforced quality management
Improved process control
Enhanced image for both your clients and your company's employees
Impacts on industrial strategy
Creation of a production database
Collective measuring tools and work methods, shared within the different production sites
Development of customized product ranges, new services, connected products